our
Solutions
---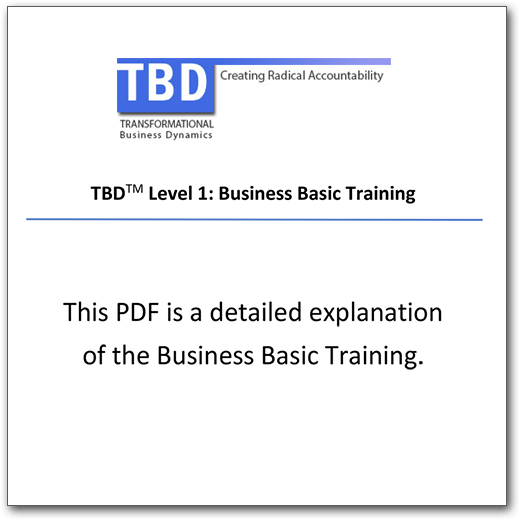 Business Basic
$1000 per-participant | 3-days | For Owners and High-level Managers
1. You are it!
Your Organization mirrors your capacity to create change. Your Organization is an extension of you. Your limitations are your Organizations limitations.
2. Do Your Work!
Learn how to be an agent of change by moving through what stops you from practicing transparency, radical honesty and accountability. By changing your thinking, feeling, speaking and perceiving you transform what is possible for your Organization.
3. They Do Their Work!
You will leave the 3-day Business Basic Training with the capacity to bring your transformation into your Organization. The new you will strengthen your organization. You will be able to uncover business possibilities and it will become your Organization's opportunity. Your expanded capacity will make opportunities available that previously were not possible.
Be the agent that Drives Change through your Organization.
Coach Pete´s Blog provides the opportunity for his participants to share the insights and breakthroughs they created through their experience in TMD, TBD, and ECD. In addition, he shares videos and articles that help execute the benefits Coaching in your life.
Since Basic, I have learned to be confident and confrontational, this has improved my communication skills in my dept.
James
I am now having a healthy relationship for the first time in my life. I have never in any of my relationships been in a healthy one. For the first time I trust my partner fully and we even spent a weekend apart and there was no negative about it. I would not have had that.
Bridgette
My 'Before' and 'After' of the Basic Training class is TREMENDOUS. In learning to acknowledge my programmed mind and take action against my programming I have accomplished results that I never would have accomplished without the training. I'm creating a "dream come true" of a dream that I never even knew I had!
Shaun Brackett
Thank you Coach Pete to opening my eyes to my programing and addictions in my life. Your Training course has changed my life and career to new possibilities and opportunities.
Kenneth
After attending basic training I realized that my avoiding issues was not a help to myself or the world around me. I am now able to openly confront people with issues that need addressed. I have noticed that productivity in my department has greatly gone up as we are all accountable and will get called out on things that need changed.
Kent