Conscious Eating: It's not about the diet
15 Days to Reprogram Your Mind and Reclaim your Innate Body
Massive Weight Loss
Relief from Joint Pain
No More Indigestion
Healthy Blood Sugar Levels
Energy Throughout The Day
Waking Up with More Energy
Satisfying Sleep
Feeling Balanced / Grounded
Diminished Mood Swings
Clearer Skin
Focused Thoughts
No Emotional Blow Ups
You heal your physical and emotional addiction to food.
You reprogram your brain to love aliveness and healthy eating.
You join an empowering community for a lifetime of support.
CE: 15 Includes
Three 6-hr Session
Three Step Diet Plan
Community Support for Life

CE:15 is three 6-hr sessions incorporating educational processes, personal coaching and visualization work that will empower you to reprogram your mind & reclaim your body for life.

15-Day Detox Diet
Diet for Weight Loss
Diet for Life

Daily, Weekly and Monthly Coaching Opportunities
Build relationships with graduates who transformed their relationship to food
What is
CE:15?
CE:15 is a training process where you learn to shift from unconscious to conscious eating in 15 days!
What is "Unconscious" Eating? Unconscious Eating means your emotions, circumstances and/or stressors dictate your food choices.
Do you reward yourself with food? "I had a tough day I need a break"
Do you eat when you're sad? "Why can't I treat myself, I deserve it."
Do you crave sugar, carbohydrates or salty foods? "Or when starting a diet and exercise regimen, you may interpret exercise as inconvenient, and the food as boring.
If you answered yes to any of the above questions you are suffering from unconscious eating.
When you're Unconscious, you will find it difficult to create and retain your innate body because you use your emotions – stressors – to make decisions. Eventually, your Unconscious responses will cause you to quit. Whether you quit prior to meeting your goals or after achieving your goals, the result is the same – you feel disappointed and end up gaining back the weight you lost.
You quit because... You don't love it. You don't dream about riding your bike, swimming with the dolphins, or surfing big waves. Stop the desire to avoid life with Ben and Jerry and enjoy passion for aliveness.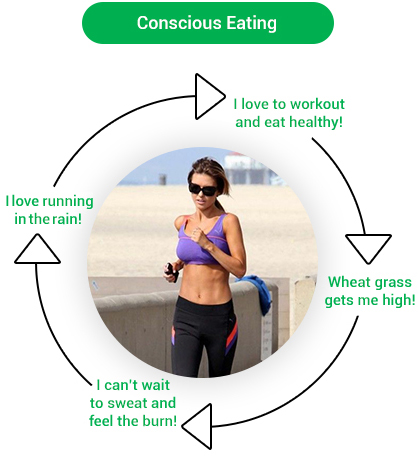 What is Conscious Eating? Being Conscious means your commitments or passions dominate your food choices.
I set and achieve goals
I eat what empowers me to feel alive
I enjoy choosing healthy meals when eating out
The suffering caused by Unconscious Eating disappears when you shift to Conscious Eating. You'll have an empowering relationship with food, which will leave you feeling healthy and alive. The difficulty is replaced with a passion for aliveness. You will reprogram your mind, heal your addiction to food and be a part of a supportive community. Take charge of your mind and reclaim your innate body, the body you were meant to have.
Massive Weight Loss
Relief from Joint Pain
No More Indigestion
Healty Blood Sugar Levels
Energy Throughout The Day
Waking Up with More Energy
Satisfying Sleep
Feeling Balanced / Grounded
Diminished Mood Swings
Clearer Skin
Focused Thoughts
No Emotional Blow Ups
CE:15 is a training process where you learn to shift from unconscious to conscious eating in 15 days! On the blog, you will find insights into how you can breakthrough unconscious eating and hear from others around the country who are participating in our process. You can also share your insights or ask anything about the blog post in the comment section. It's all yours!!